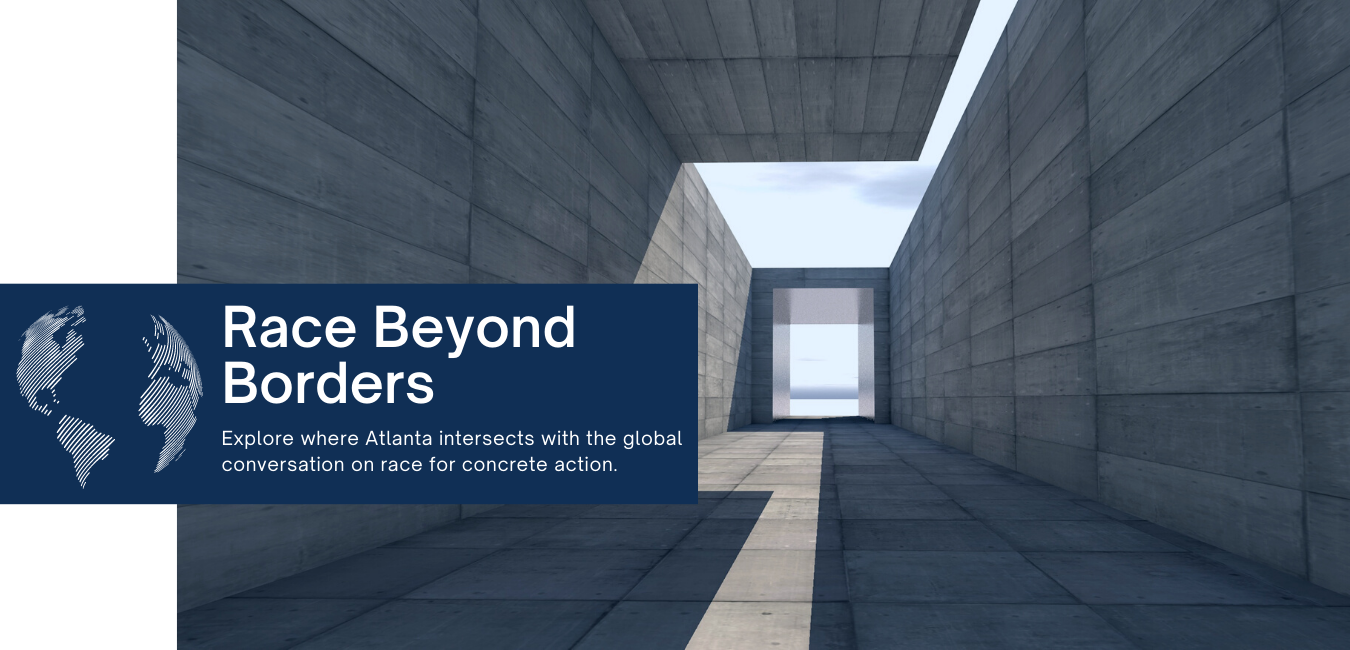 Who we are, why we care, and what we want
We are a coalition of Greater Atlanta area higher education institutions, non-profits, and Atlanta Mayor's Office of International Affairs. We aim to create a collaborative, diverse, multi-institutional, and multi-disciplinary space for a global conversation on race and a public-facing scholar/activist network. We explore how the legacy of the Atlanta civil rights movement translates into the present for positive change in race relations around the world. We investigate how global movements inform and influence the local conversation. We connect global scholars, practitioners, and policy-makers to turn conversation into action that advances racial justice and equity in Atlanta and beyond. Our aim is the insight from these conversations will lead to concrete plans and actions to combat racism.
Participating organizations:
Purpose 




Explore where Atlanta intersects with the global conversation on race for concrete action. 
 Legacy: How does Atlanta's legacy as a hub for civil rights fuel its relevance in the global conversation on race relations? We say we are a city of peace and civil rights, the city too busy to hate. Is this a shared image for Atlantans and around the world? What are we carrying forward from the city's legacy? How do international communities fit into this image/vision?

Inquiry and Solutions: How can Atlanta's history and experience contribute to global solutions around racial equity and justice, and how do global movements inform and influence the local conversation? What lessons that are universal can be applied locally? How do they influence each other?

A public-facing scholar/activist network that will enable us to:

Learn from each other and promote/disseminate ideas for teaching/learning and research with an emphasis on activism, actionable projects/programs, and training/empowering student leaders;

Articulate what race, racism, and social justice look like in different spheres of life as well as locally and globally and bring this to the public; 

Simultaneously assert and explore who we are as we engage in a dynamic, ongoing conversations of history, strategies, and action – we will leave the audience with a charge, something to think about, act on.

Cross multiple divides: Expand our reach beyond borders of Atlanta, U.S, our disciplines, and institutions as well as academia/public/activism 
Themes
We hold a series of conversations on race through panel discussions, lectures, webinars, interviews, film, art exhibits, and explore the following multiple themes among others: Arts and culture; Climate Change; Criminal justice; Education; Economics, business, industry; Gender; Health and well-being; Housing; Identity; Infrastructure; Leadership; Politics; Power and Access; Religion; Science/Artificial Intelligence
We discuss how equity/diversity/inclusion are transpiring in different ways, spheres and sectors. Our aim is the insight from these conversations will lead to concrete plans and actions combatting racism.
 
Past Events

Feb 5, 12-1:30 pm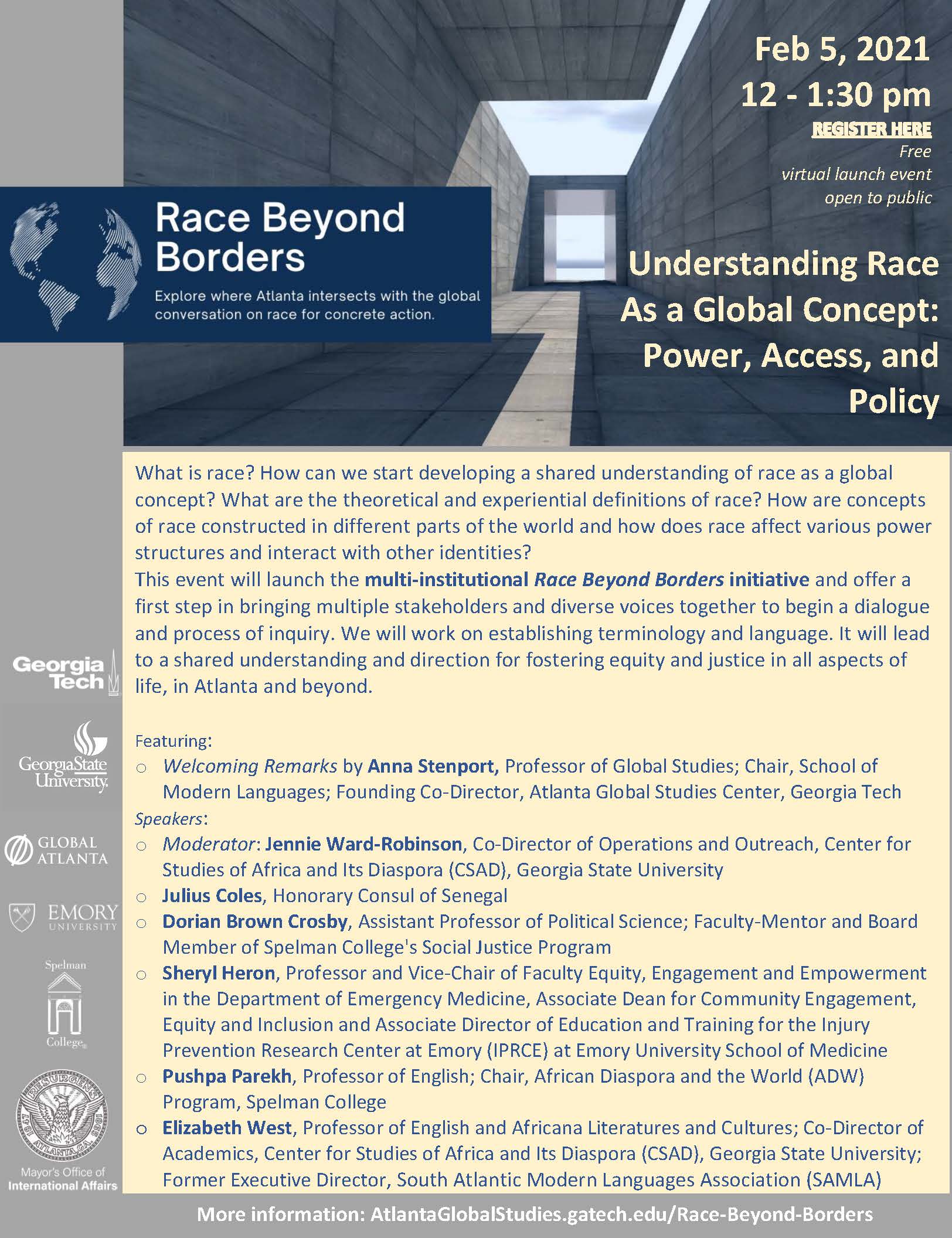 Understanding Race as a Global Concept: Power, Access, and Policy    
Free virtual launch event open to public 
What is race? How can we start developing a shared understanding of race as a global concept? What are the theoretical and experiential definitions of race? How are concepts of race constructed in different parts of the world and how does race affect various power structures and interact with other identities? 
This event will launch the multi-institutional Race Beyond Borders initiative and offer a first step in bringing multiple stakeholders and diverse voices together to begin a dialogue and process of inquiry. We will work on establishing terminology and language. It will lead to a shared understanding and direction for fostering equity and justice in all aspects of life, in Atlanta and beyond.
Featuring: 
Welcoming Remarks by Anna Stenport, Professor of Global Studies; Chair, School of Modern Languages; Founding Co-Director, Atlanta Global Studies Center, Georgia Tech 

Speakers:

Moderator: Jennie Ward-Robinson, Co-Director of Operations and Outreach, Center for Studies of Africa and Its Diaspora (CSAD), Georgia State University

Julius Coles, Honorary Consul of Senegal

Dorian Brown Crosby, Assistant Professor of Political Science; Faculty-Mentor and Board Member of Spelman College's Social Justice Program

Sheryl Heron, Professor and Vice-Chair of Faculty Equity, Engagement and Empowerment in the Department of Emergency Medicine, Associate Dean for Community Engagement, Equity and Inclusion and Associate Director of Education and Training for the Injury Prevention Research Center at Emory (IPRCE) at Emory University School of Medicine

Pushpa Parekh, Professor of English; Chair, African Diaspora and the World (ADW) Program, Spelman College

Elizabeth West, Professor of English and Africana Literatures and Cultures; Co-Director of Academics, Center for Studies of Africa and Its Diaspora (CSAD), Georgia State University; Former Executive Director, South Atlantic Modern Languages Association (SAMLA)
Speaker Bios | Suggested readings by speakers [PDF]  | Event Recording
Stay tuned for further details on the following planned events -- all are working titles / dates TBD:
How Does Race as a Global Concept (with its Global Implications) Play into Dynamics of Atlanta as a Constantly Evolving City?

Race as a Global Concept in the Classroom (From K12 to College)

From Civil Rights to Human Rights, Addressing Racism from a rights based approach

Combating Racism through the Arts

The intersection of Health and Racial Inequity
Contact:
Dr. Sebnem Ozkan, Associate Director of the Atlanta Global Studies Center (AGSC) | sebnem.ozkan@gatech.edu