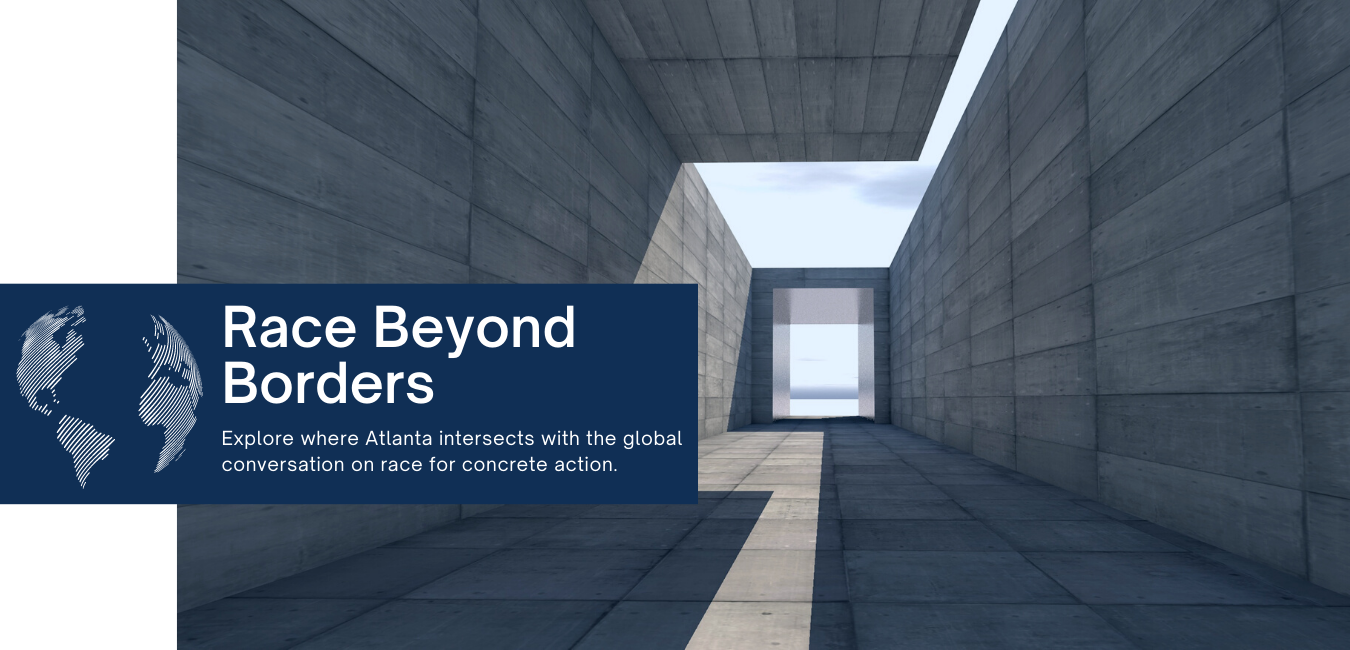 Who we are, why we care, and what we want
We are a coalition of Greater Atlanta area higher education institutions, non-profits, and Atlanta Mayor's Office of International Affairs. We aim to create a collaborative, diverse, multi-institutional, and multi-disciplinary space for a global conversation on race and a public-facing scholar/activist network. We explore how the legacy of the Atlanta civil rights movement translates into the present for positive change in race relations around the world. We investigate how global movements inform and influence the local conversation. We connect global scholars, practitioners, and policy-makers to turn conversation into action that advances racial justice and equity in Atlanta and beyond. Our aim is the insight from these conversations will lead to concrete plans and actions to combat racism.
Participating organizations:

Atlanta Global Studies Center (AGSC)
Georgia State University's Center for Studies on Africa and Its Diaspora
Georgia State University's Center for Latin American and Latinx Studies
Spelman College's Gordon-Zeto Center for Global Education
Spelman College's African Diaspora and the World (ADW) Program
Emory University's Office of Global Strategy and Initiatives 
Emory University's James Weldon Johnson Institute for the Study of Race and Difference
Kennesaw State University's Center for African and African Diaspora Studies
Institute Diversity, Equity, and Inclusion (IDEI) at Georgia Tech
City of Atlanta Mayor's Office of International Affairs


* If you are interested in joining this collaborative, please contact Dr. Sebnem Ozkan, AGSC Associate Director, at sebnem.ozkan@gatech.edu.
Purpose
Explore where Atlanta intersects with the global conversation on race for concrete action. 
Legacy: How does Atlanta's legacy as a hub for civil rights fuel its relevance in the global conversation on race relations? We say we are a city of peace and civil rights, the city too busy to hate. Is this a shared image for Atlantans and around the world? What are we carrying forward from the city's legacy? How do international communities fit into this image/vision?

Inquiry and Solutions: How can Atlanta's history and experience contribute to global solutions around racial equity and justice, and how do global movements inform and influence the local conversation? What lessons that are universal can be applied locally? How do they influence each other?

A public-facing scholar/activist network that will enable us to:

Learn from each other and promote/disseminate ideas for teaching/learning and research with an emphasis on activism, actionable projects/programs, and training/empowering student leaders;

Articulate what race, racism, and social justice look like in different spheres of life as well as locally and globally and bring this to the public; 

Simultaneously assert and explore who we are as we engage in a dynamic, ongoing conversations of history, strategies, and action – we will leave the audience with a charge, something to think about, act on.

Cross multiple divides: Expand our reach beyond borders of Atlanta, U.S, our disciplines, and institutions as well as academia/public/activism
Themes
We hold a series of conversations on race through panel discussions, lectures, webinars, interviews, film, art exhibits, and explore the following multiple themes among others: Arts and culture; Climate Change; Criminal justice; Education; Economics, business, industry; Gender; Health and well-being; Housing; Identity; Infrastructure; Leadership; Politics; Power and Access; Religion; Science/Artificial Intelligence
We discuss how equity/diversity/inclusion are transpiring in different ways, spheres and sectors. Our aim is the insight from these conversations will lead to concrete plans and actions combatting racism.
Current Events
*November 9 | 5 pm
Dorian Brown Crosby, Associate Professor of Political Science, Spelman College
Somalis in the Neo-South: African Immigration, Politics, and Race
meet & greet @5pm | book talk @5:30pm
In person &virtual – select your preferred option when registering
Refuge Coffee Co. – Sweet Auburn location
145 Auburn Ave NE
REGISTER HERE

There will be a meet and greet at 5:00 p.m. in advance of the interview at 5:30 p.m.that will bebroadcast live to Zoom, just in case you can't join us in person.Can't make it? The interview portion of this event will also be broadcast and viewable free of charge via Zoom at 5:30 pm. Please select your preferred option when registering.
About the Book
As demographics change and the southern American region grows more multicultural, clashes between mentalities and contemporary population realities increase. Somalis in the Neo-South: African Immigration, Politics and Race offers a balanced and insightful look at Somalis in the southern United States. Politically centered, it is a thought-provoking book that presents an essential and positive alternative to the familiar portrayal of Somalis in the United States as terrorists. It explains the U.S. resettlement process and illuminates the civic engagement and entrepreneurship of Somalis in Clarkston, Georgia, and Nashville, Tennessee.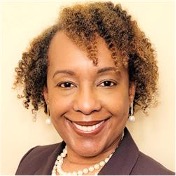 About the Author
Dr. Crosby is a teacher and scholar-activist dedicated to bridging cultures through education. Her global and local activities infuse her teaching and research. She is committed to equipping students to take their places in the world.
Global Engagement: Listen to the 2014 Ghanian radio interview featuring Drs. Dorian Crosby and Veta Goler. They traveled to Africa with 27 Spelman students on the College's first CIEE sponsored trip to Ghana. The interview aired on May 23, 2014 and was heard throughout the country. You can listen to it here. Dr. Crosby's TV interview with Steve Goodman (Higher Education Today) can be seen here.
Consultation: Massara, K. (2010). The Gangs of Omaha: Sudanese Who Fled Their War-Torn Country Face Growing Violence in Their Ranks.
Grants: Social Justice Development Grant (2014); Gordon-Zeto Center Curriculum Development Grant (2013); Spelman Campus Leadership Initiatives Grant (2008); Nebraska Humanities Council Grant ( 2005)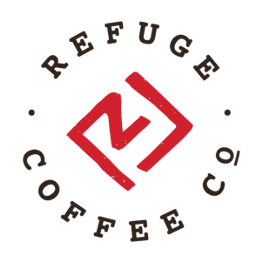 We are excited to announce that this event has provided us with the unique opportunity to partner with Refuge Coffee Co., at their first physical location, in Sweet Auburn for an evening event that celebrates refugee communities in Atlanta. As a non-profit organization, their objective is to provide job creation and job training for resettled refugees.
Refuge Coffee Co. began as a coffee truck that was founded and opened in Clarkston, a city where Dr. Crosby has dedicated much of her time working with, and a community that is a central focus in her book.
*This event is presented as part of the Authors Amplified series with Global Atlanta.
---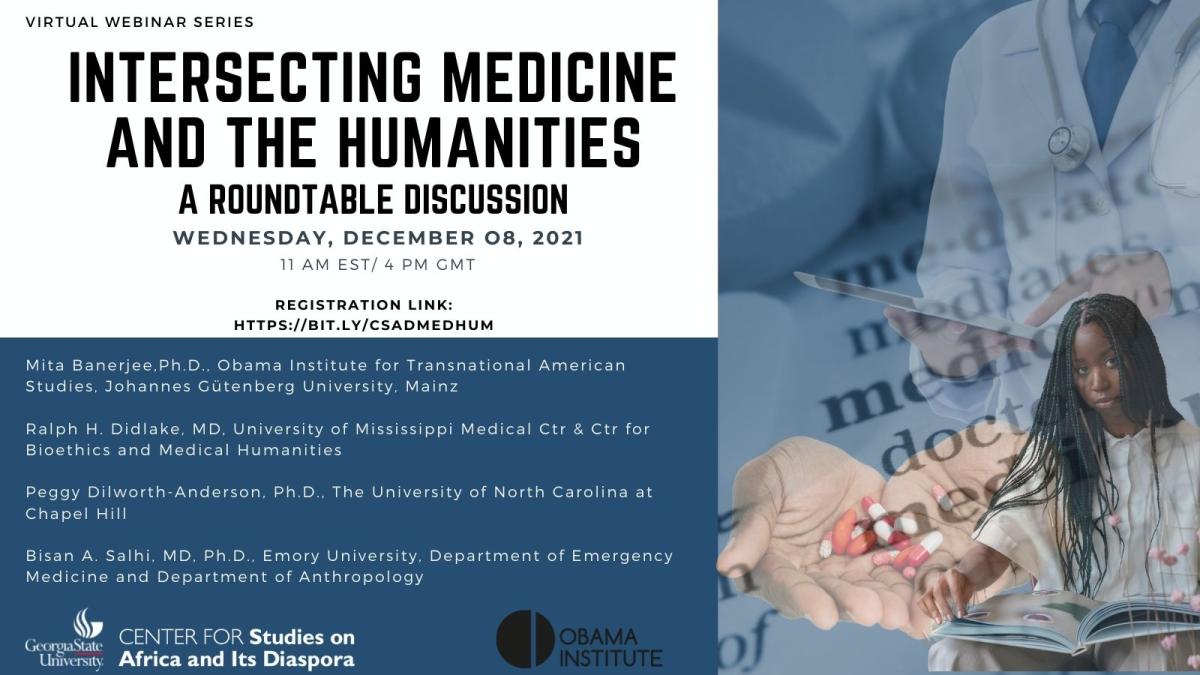 The rise of Medical Humanities as an interdisciplinary framework is growing within research, pedagogical and care delivery communities. Distinguished from the traditional and distinct medical and humanities fields of study, Medical Humanities offers consideration of moral implications, stakeholder experiences and culture, and a gateway to consider factors of social justice in diagnosis and treatment in healthcare. It is an approach to treatment and delivery that acknowledges the central place of culture and society for more impactful healthcare outcomes.
In the first webinar of this virtual series, panelists will discuss the development of Medical Humanities and address the field's potential to reshape current healthcare practices for more effective outcomes in economically challenged areas and communities of color. Panelists include Mita Banerjee, Ph.D., Obama Institute for Transnational American Studies, Johannes Gütenberg University, Mainz, Ralph H. Didlake, MD, University of Mississippi Medical Ctr & Ctr for Bioethics and Medical Humanities, Peggy Dilworth-Anderson, Ph.D., The University of North Carolina at Chapel Hill, and Bisan A. Salhi, MD, Ph.D., Emory University, Department of Emergency Medicine and Department of Anthropology. This series is co-sponsored by the Obama Institute for Transnational American Studies, Johannes Gütenberg University, Mainz, the Auburn Avenue Research Library, and Atlanta Global Studies Center. Please register at https://bit.ly/CSADMedHum.
Past Events 
Roundtable Discussion: "Student Views on Inclusion in the Global Workplace"
April16, 12-1 PM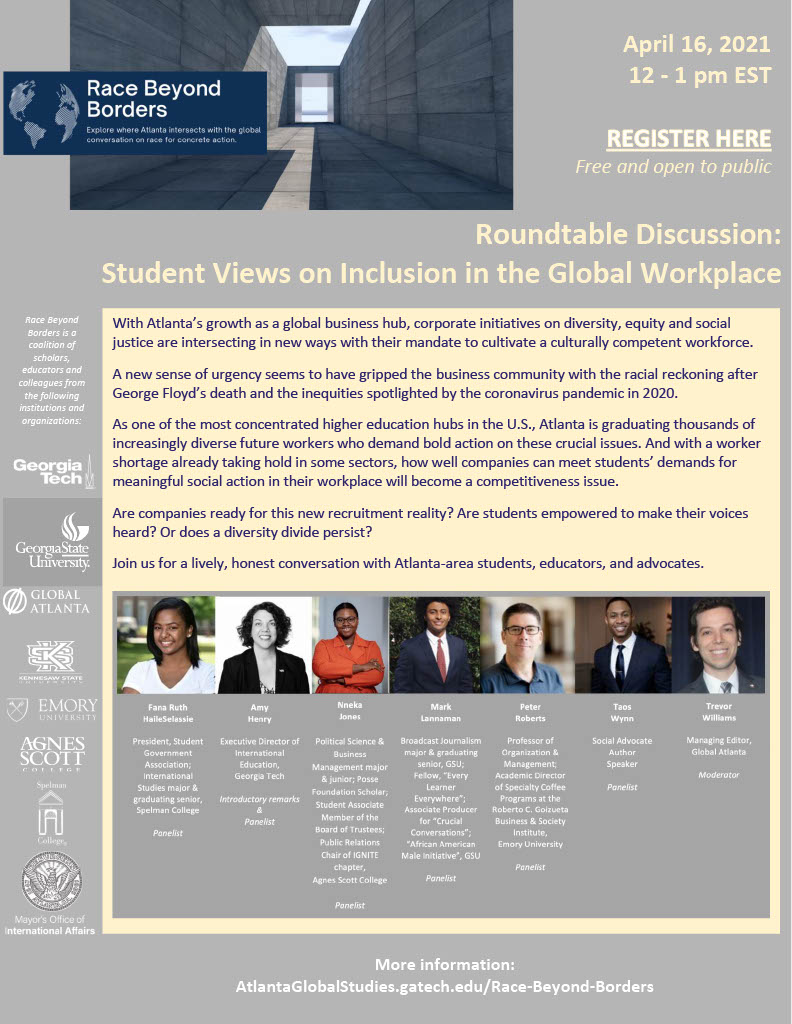 With Atlanta's growth as a global business hub, corporate initiatives on diversity, equity and social justice are intersecting in new ways with their mandate to cultivate a culturally competent workforce.
A new sense of urgency seems to have gripped the business community with the racial reckoning after George Floyd's death and the inequities spotlighted by the coronavirus pandemic in 2020.

As one of the most concentrated higher education hubs in the U.S., Atlanta is graduating thousands of increasingly diverse future workers who demand bold action on these crucial issues. And with a worker shortage already taking hold in some sectors, how well companies can meet students' demands for meaningful social action in their workplace will become a competitiveness issue.

Are companies ready for this new recruitment reality? Are students empowered to make their voices heard? Or does a diversity divide persist?

Join us for a lively, honest conversation with Atlanta-area students, educators, and advocates. 
Speakers: 
Fana Ruth HaileSelassie, President, Student Government Association; International Studies major & graduating senior, Spelman College
Amy Henry, Executive Director of International Education, Georgia Tech
Nneka Jones, Political Science & Business Management major and junior; Posse Foundation Scholar; Student Associate Member of the Board of Trustees; and the Public Relations Chair of IGNITE chapter, Agnes Scott College
Mark Lannaman, Broadcast Journalism major & graduating senior, Georgia State University (GSU); Fellow, "Every Learner Everywhere"; Associate Producer for "Crucial Conversations"; "African American Male Initiative" at GSU
Peter Roberts, Professor of Organization & Management; Academic Director of Specialty Coffee Programs at the Roberto C. Goizueta Business & Society Institute, Emory University
Taos Wynn, Social Advocate, Author, Speaker
Moderator: Trevor Williams, Managing Editor, Global Atlanta​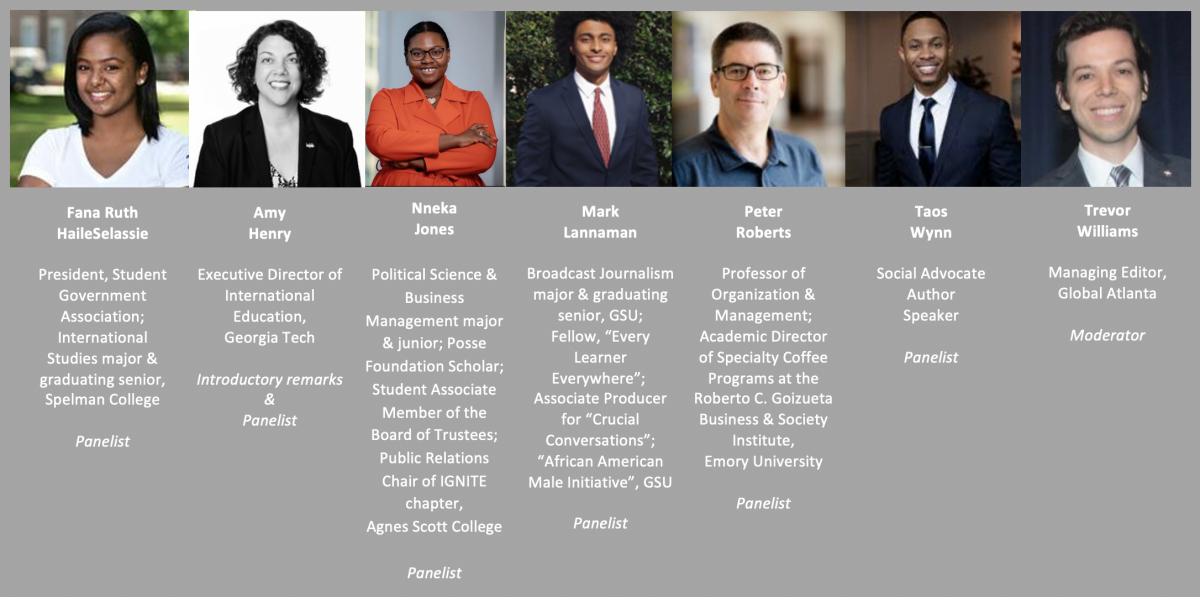 ---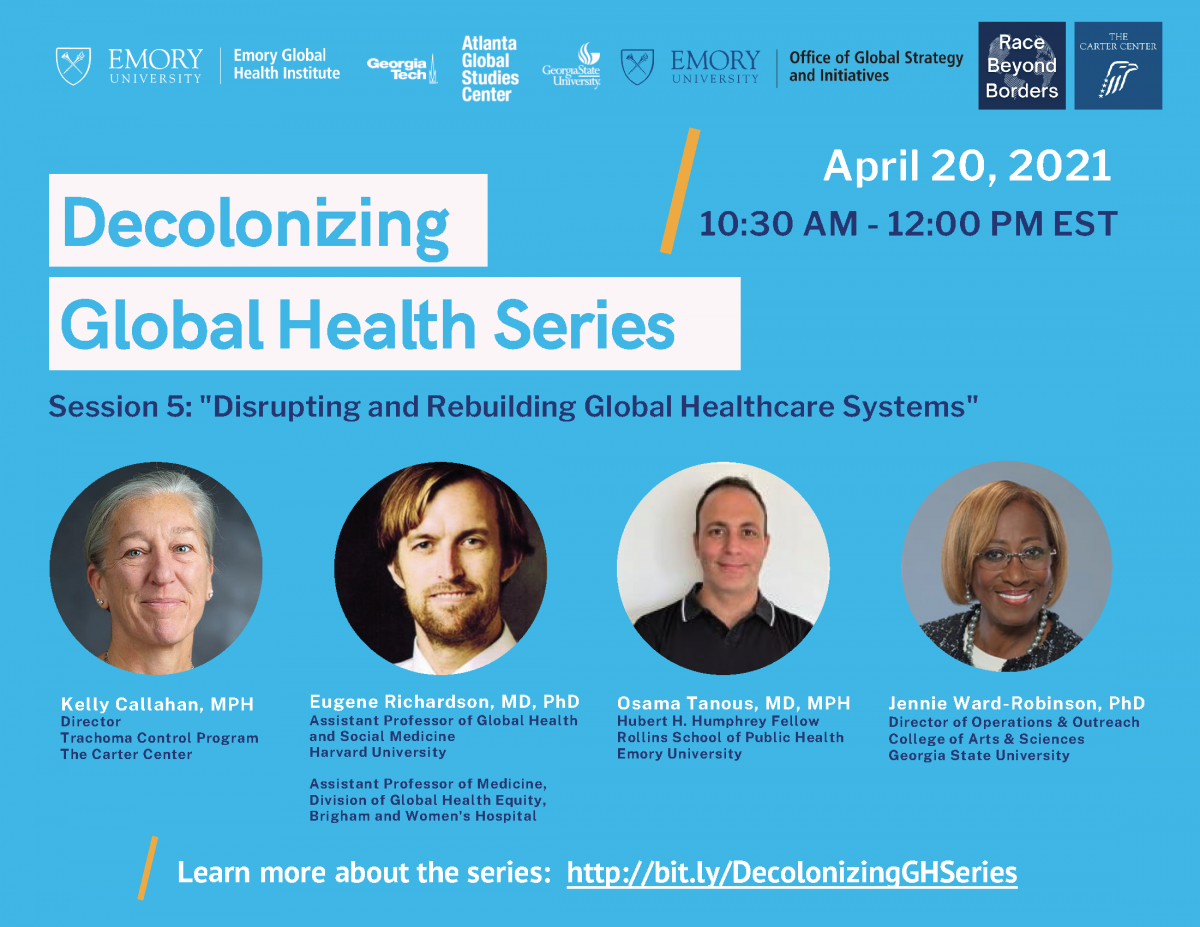 Tuesday, April 20 | 10:30-12:00pm
Osama Tanous, MD, MPH, 2020 Fulbright Hubert H. Humphrey Fellow
Eugene Richardson, MD, PhD, Assistant Professor of Global Health and Social Medicine, Harvard Medical School; Co-chair, Lancet Commission on Reparations and Redistributive Justice
Kelly Callahan, MPH, Director, Trachoma Control Program, The Carter Center
Moderator: Dr. Jennie Ward-Robinson, Director of Operations and Outreach, Center for Studies on Africa and its Diaspora, Georgia State University

Breakout rooms facilitated by Emory and GSU faculty and graduate students.
---

Friday, April 23rd | 3:30-5:00pm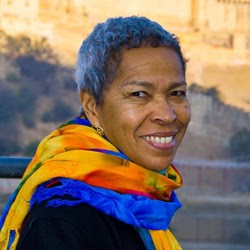 Race Beyond Borders Keynote Address by Shelia S. Walker

EVENT RECORD - coming soon!

This event is presented as part of the Annual Atlanta Global Studies Symposium, April 20-23, 2021.
Sheila S. Walker, PhD, cultural anthropologist and documentary filmmaker, has done fieldwork, lectured, and participated in intellectual and cultural events in most of Africa and the Global African Diaspora. Her goal is now to educate the public about the Global African Diaspora. Her most recent documentary, Familiar Faces/Unexpected Places: A Global African Diaspora, was shown at the United Nations as the 2018 Black History Month program for the UN International Decade for People of African Descent 2015-2024, and was sent for showings at UN Information Centers in the Americas, Africa, Asia and the Pacific, and Europe.
---

Feb 5, 12-1:30 pm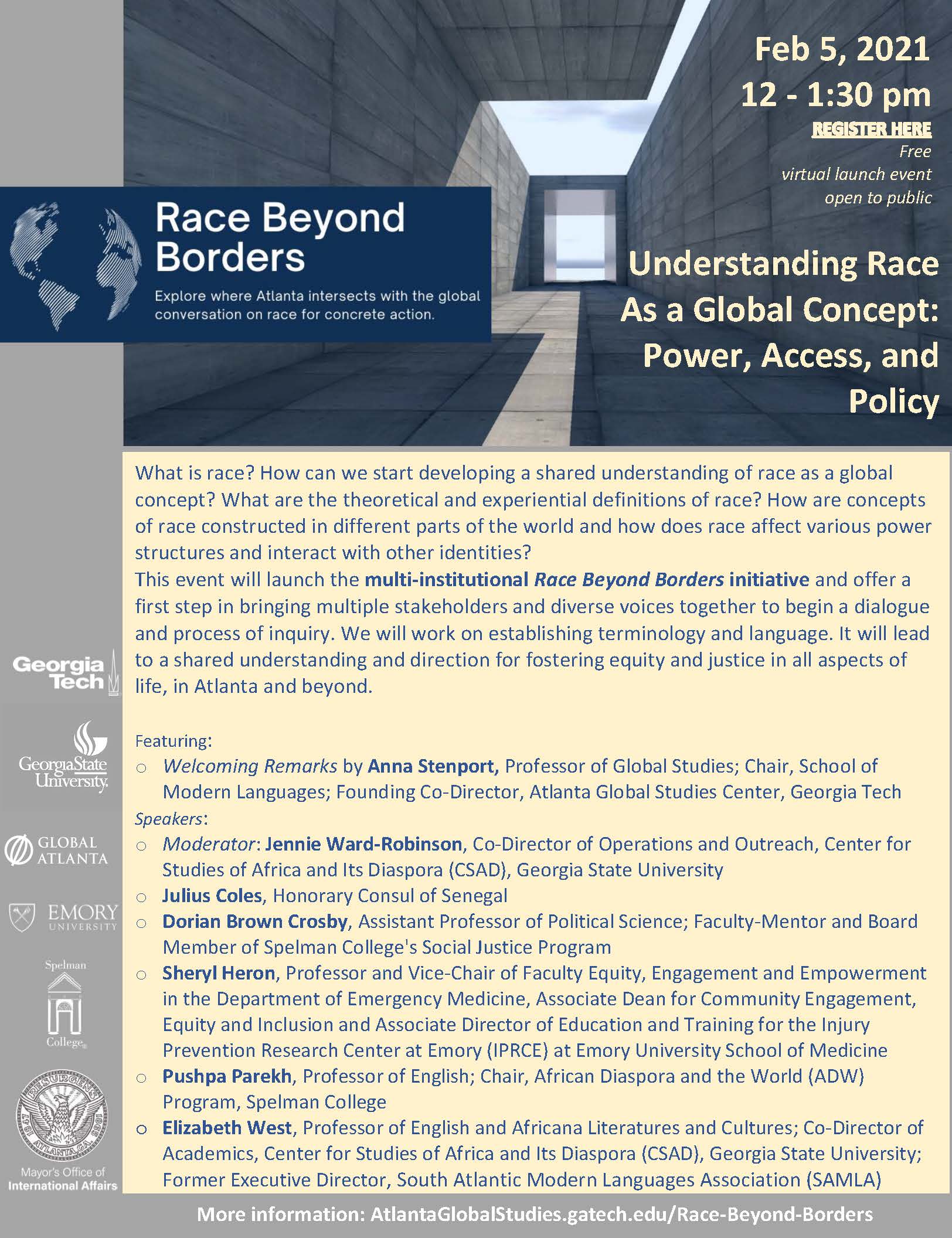 Understanding Race as a Global Concept: Power, Access, and Policy    
Free virtual launch event open to public
What is race? How can we start developing a shared understanding of race as a global concept? What are the theoretical and experiential definitions of race? How are concepts of race constructed in different parts of the world and how does race affect various power structures and interact with other identities? 
This event will launch the multi-institutional Race Beyond Borders initiative and offer a first step in bringing multiple stakeholders and diverse voices together to begin a dialogue and process of inquiry. We will work on establishing terminology and language. It will lead to a shared understanding and direction for fostering equity and justice in all aspects of life, in Atlanta and beyond.
Featuring: 
Welcoming Remarks by Anna Stenport, Professor of Global Studies; Chair, School of Modern Languages; Founding Co-Director, Atlanta Global Studies Center, Georgia Tech 

Speakers:

Moderator: Jennie Ward-Robinson, Co-Director of Operations and Outreach, Center for Studies of Africa and Its Diaspora (CSAD), Georgia State University

Julius Coles, Honorary Consul of Senegal

Dorian Brown Crosby, Assistant Professor of Political Science; Faculty-Mentor and Board Member of Spelman College's Social Justice Program

Sheryl Heron, Professor and Vice-Chair of Faculty Equity, Engagement and Empowerment in the Department of Emergency Medicine, Associate Dean for Community Engagement, Equity and Inclusion and Associate Director of Education and Training for the Injury Prevention Research Center at Emory (IPRCE) at Emory University School of Medicine

Pushpa Parekh, Professor of English; Chair, African Diaspora and the World (ADW) Program, Spelman College

Elizabeth West, Professor of English and Africana Literatures and Cultures; Co-Director of Academics, Center for Studies of Africa and Its Diaspora (CSAD), Georgia State University; Former Executive Director, South Atlantic Modern Languages Association (SAMLA)
Speaker Bios | Suggested readings by speakers [PDF]  | Event Recording
Stay tuned for further details on the following planned events -- all are working titles / dates TBD:
How Does Race as a Global Concept (with its Global Implications) Play into Dynamics of Atlanta as a Constantly Evolving City?

Race as a Global Concept in the Classroom (From K12 to College)

From Civil Rights to Human Rights, Addressing Racism from a rights based approach

Combating Racism through the Arts

The intersection of Health and Racial Inequity
Resources:
Suggested readings on "Race as a Global Concept" [PDF]
Contact:
Dr. Sebnem Ozkan, Associate Director of the Atlanta Global Studies Center (AGSC) | sebnem.ozkan@gatech.edu