2020 COVID-19 Update
Because of the challenges in planning and preparation that have resulted from recent developments related to the coronavirus, and in an abundance of caution, we have decided that it will not be possible to hold the Second Annual Atlanta Global Studies Symposium, which was scheduled to take place April 23-25, 2020.
The Atlanta Global Studies Center will continue to offer opportunities to stay connected despite existing challenges. We will work with our symposium speakers and session organizers to develop stand-alone workshops, panels, and forums on important global topics throughout the upcoming year. Please stay tuned and check our events calendar regularly for more details.
We are deeply disappointed that we will be unable to see you in person this April, but we look forward to bringing our global community together in new and innovative ways!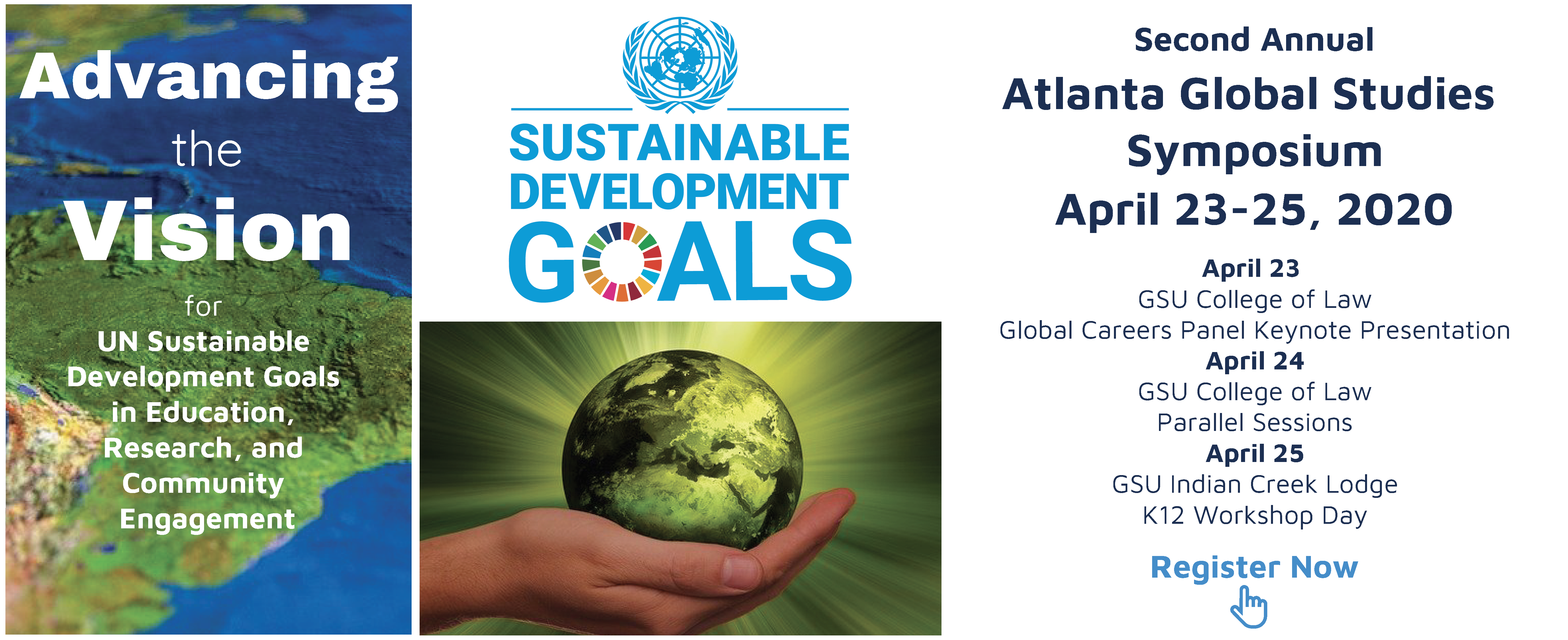 Preliminary Schedule of Events
A detailed schedule with speakers and session descriptions is coming soon.
Thursday, April 23, 2020 
Opening Day Events
Location: GSU College of Law
Georgia Department of Education International Skills Diploma Seal Award Ceremony
Global Careers Panel with U.S. AID and other global agencies and employers
Emerging Global Issues Forum
Networking Reception
Friday, April 23, 2020
Parallel Sessions Open to Faculty, Students, and Community
Location: GSU College of Law
U.S. AID Funded Opportunities for Faculty and Graduate Student Researchers
From Global to Local: Disparities in Access to Water, Sanitation and Hygiene
UN RCE Track on Climate Action
A Vision for Peace Education in the Region
Civic Education in Response to Democratic Crisis (Teaching Strategies)
Inclusive World Portuguese and World Language Instruction 
Human Trafficking: Engaging Students in Social Justice Movements
Harnessing Technology for Research and Policy Impact
Strengthening Support for Faculty Utilizing Virtual Exchange
Exploring Issues of Inclusion through Culture, Race and Environmental Justice
Africana Studies – A Showcase of the African Diaspora
Counter-Terrorism: Preventing Violent Extremism
Global Issues through Film, Media, and the Arts
The Global Refugee Crisis
Engaging Students in Global STEM Research
Exploring Issues of Inclusion in Public Health
Global Policy, Economic and Business Development
There will also be a poster session featuring global projects from undergraduate and graduate students and community partners. 
Saturday, April 25, 2020
K12 Workshop Day
Location: GSU Indian Creek Lodge
"Shift Work: Whose Curriculum Are We Teaching?" presented by Meredith White, High School World Language Teacher
"Global Competence Instruction" presented by Heather Singmaster, Asia Society Center for Global Education
K12 World Language Course Development Projects
Virtual Exchange Demonstration: Bringing the World to Your Classroom
Georgia Department of Education Seal of Biliteracy Celebration