About the Series: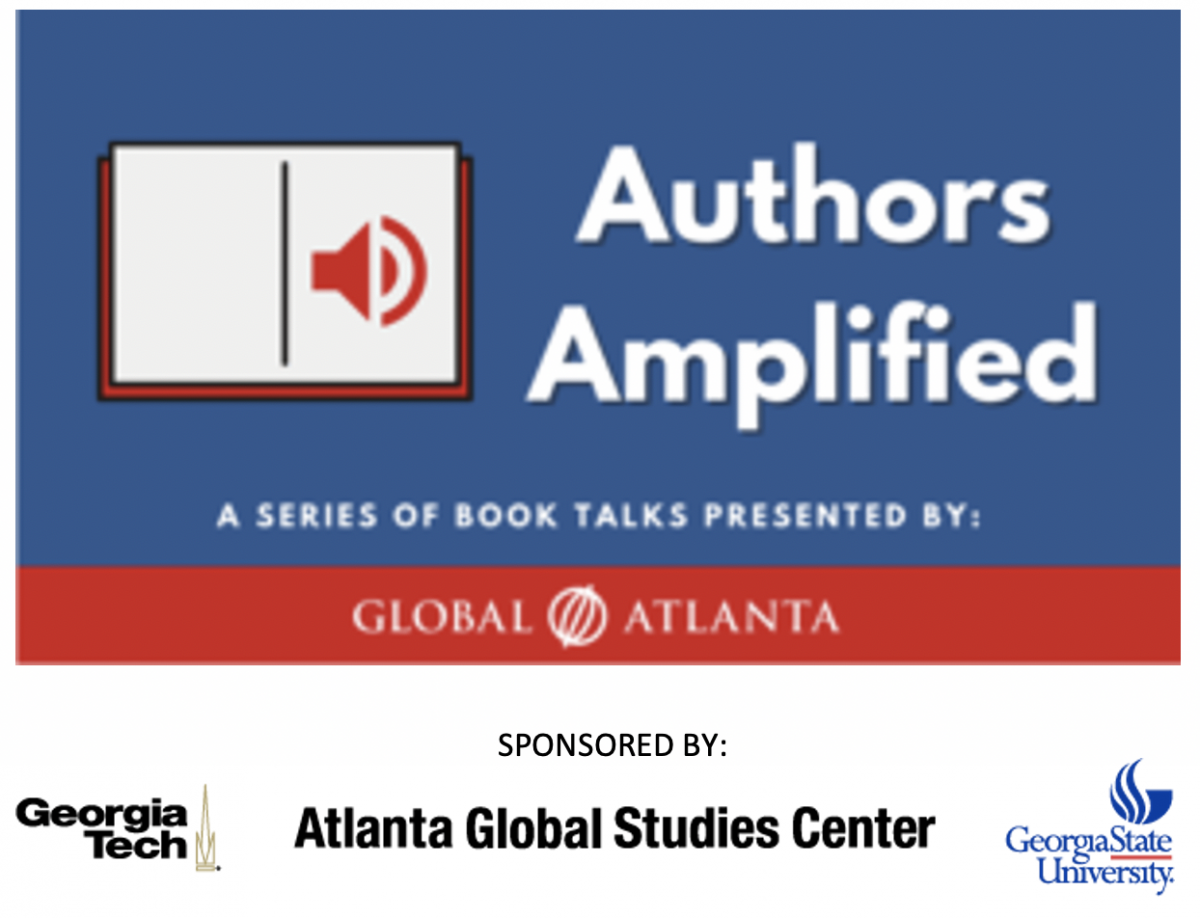 Georgia's deep pool of international expertise is sometimes hidden in the ivory towers of academia or overshadowed by looming national figures. Sought-after thought leaders sometimes shine globally while being ignored in their own backyard.
With Authors Amplified, a monthly series of book talks, we showcase authoritative local voices in foreign affairs and international business while highlighting the state's intellectual contributions to important global conversations.
The Atlanta Global Studies Center is proud to partner with Global Atlanta to present this series. 
Spring 2021 Events
Feb. 17 | 10-11 am
JOHN E. ENDICOTT
'Destined to Serve' author, Woosong University president and former Georgia Tech professor
Event recording

About the Book: 
Destined to Serve: From the Queen City to Daejeon and the Presidency of a Korean University
This is the story of a Cold Warrior who experiences the dangers of total nuclear war from the Underground War Room in SAC Headquarters during the Cuban Missile Crisis and later, flying targeting missions during the early days of America's involvement in Vietnam. More importantly, Endicott's story and ultimate mission in life is the work he has done to the control and reduction of nuclear weapons and the development of regional peace through the internationalization of higher education in Northeast Asia. And he still believes the best thing he ever did in life was to marry his wife of 60 years, Mitsuyo, from Japan.
About the Author: 
John E. Endicott, President of Woosong University; Vice-Chancellor of SolBridge International School of Business, Daejeon, Republic of Korea
Dr. Endicott's career spans 28-years in the U.S. Air Force, three years as SES-4 Director of the Institute for National Strategic Studies, 18+ years at Georgia Tech as Professor and Center Director, and 14 years as President and Vice-Chancellor of Woosong University in Daejeon, ROK. His Ph.D., MALD, and A.M. Degrees are from the Fletcher School of Law and Diplomacy of Tufts University in cooperation with Harvard; his M.A. is from Omaha University and his B.A.in Political Science (cum laude) is from The Ohio State University where he was inducted into the American academic society Phi Beta Kappa. He holds two honorary doctorates from the University of Toulouse, France, and Dankook University of Yongin, South Korea. In 1991 he introduced the concept for a Limited Nuclear Weapons-Free Zone in Northeast Asia (LNWFZ-NEA) which received nominations for the Nobel Peace Prize in 2005 and 2009. He has authored or co-authored six books primarily on Asian and U.S. security and political issues, including Japan's Nuclear Option. His most recent book, his memoirs, Destined to Serve, was published in December 2020.
In March 2019 he was appointed to the Board of Advisors for the Republic of Korea Army Training and Doctrine Command (TRADOC). He holds a number of military decorations for his 31-year service in the U.S. Government, including the Defense Superior Service Medal, the Legion of Merit Medal, the Bronze Star Medal, the Meritorious Service Medal, Air Medal with Oak Leaf Cluster for 50 combat missions, the Air Force Commendation Medal with Oak Leaf Cluster, and the Vietnam Service Medal with 2 Bronze Stars, among others. In October 2019, he was notified that he has been awarded a Marquis Who's Who Lifetime Achievement Award and will be included in subsequent publications of that organization.
Woosong University, which Endicott heads, is a medium-sized specialized university with a global mission. It has approximately 13,500 students (2,500 international) attending eight colleges: Railroad Transportation College, Hotel Management and Culinary Arts College, Digital Convergence College, and the Health and Welfare College (all primarily in Korean). SolBridge International School of Business (the fifth college) is an all-English language college created in 2007 offering BBAs and MBAs to over 1,600 students (pre-COVID Era). Thirty percent are Korean, 20 percent Chinese and 26 percent Russian speaking from Russia and Central Asia, and the rest of the 24% come from 62 other nations of the world and is AACSB accredited. As the sixth college, Sol International School offers specialized English language tracks in the four Korean language colleges. The Endicott College of International Studies, the seventh college at Woosong, offers courses in Korean and English language as the liberal arts college of Woosong. In the Fall Semester of 2020, the J.W. Kim College of Future Studies was added to especially address the needs of education in the 4th Industrial Revolution.
---
​
March 24 | 11 A.M. EST
JONATHAN ADDLETON​
The Dust of Kandahar
Some Far and Distant Place
About the Author: 
Jonathan Addleton, former U.S. ambassador to Mongolia and five-time USAID mission director, was born in Pakistan to a family of missionaries rooted in Macon, Ga., a history recorded in his memoir, Some Far and Distant Place. He recently left Macon to return to Pakistan as rector and president of Lahore's prestigious Forman Christian College. The Dust of Kandahar recounts in diary form Dr. Addleton's year among warriors as senior U.S. civilian representative in Afghanistan from 2012-13 as America began to wind down its "forever war." With great empathy and detail, it describes events as prosaic as bureaucratic emails, as poignant as the "ramp ceremonies" held for fallen troops, and as harrowing as the April 2013 suicide bombing that killed Dr. Addleton's translator, a fellow foreign service officer and three American soldiers, and nearly took his life.
---
May 12, 1:30 P.M EST
ISABELLA ALEXANDER-NATHANI
'Burning at Europe's Borders'
The Authors Amplified series highlighting Georgia voices continues with a virtual interview with Dr. Isabella Alexander-Nathani, anthropologist, filmmaker and author of the recently released book Burning at Europe's Borders: An Ethnography on the African Migrant Experience in Morocco, which features an accompanying documentary The Burning by Small World Films, Dr. Alexander-Nathani'sproduction company.
About the Book:
In her heart-pounding and courageous debut, Dr. Isabella Alexander-Nathani uncovers an unseen side of our global migrant and refugee crisis.
Burning at Europe's Borders invites readers inside the lives of the world's largest population of migrants and refugees–the hundreds of thousands who are trapped in hidden forest camps and forgotten detention centers at Europe's southernmost borders in North Africa. "Hrig," the Arabic term for "illegal immigration," translates to "burning." It signifies a migrant's decision to burn their papers, in order to avoid identification and repatriation on their long journeys to safer shores. But it also signifies their decision to burn their past lives, sacrificing themselves in hopes of reaching a future on the other side of the Mediterranean Sea. Alexander-Nathani examines this process of "burning," traveling thousands of miles alongside those who have fled war and extreme poverty across the African continent only to find themselves trapped in Libya, Algeria, and Morocco. This book exposes the political agreements that have led to Europe's control over African borders and the illicit practices that continue to mold North African countries into brutal holding cells for our world's most vulnerable.
Burning at Europe's Borders introduces new ways of doing anthropological research in the modern era, as Alexander-Nathani skillfully weaves images and individual stories into her analysis of changing migration flows at our world's most critical border crossings. Her creative mixed-methods approach included community filmmaking practices and over three years of ethnographic research in African smuggling rings, hidden migrant brotherhoods, and European Union-funded detention centers. This is an ideal cross-over book, promising to engage students, scholars, policymakers, and popular audiences seeking to step inside the heart of our world's greatest humanitarian crisis.
Burning at Europe's Borders is a volume in the series ISSUES OF GLOBALIZATION: CASE STUDIES IN CONTEMPORARY ANTHROPOLOGY, which examines the experiences of individual communities in our contemporary world. Each volume offers a brief and engaging exploration of a particular issue arising from globalization and its cultural, political, and economic effects on certain peoples or groups.
About the Author:
Dr. Isabella Alexander-Nathani is an award-winning writer, filmmaker, educator, and human rights activist. Trained as a cultural anthropologist, her work is motivated by her belief that storytelling has the power to humanize complex political issues and bring positive social change. Her latest book, Burning at Europe's Borders (Oxford University Press, 2020) and related documentary film The Burning (Small World Films, 2020) uncover the human sides of our global migrant and refugee crisis. She currently serves as Founder and CEO of Small World Films, a non-profit production studio, which uses grounded research and social impact storytelling to lift the voices of marginalized populations to the global stage and fight for international policy change.
Isabella's work has been featured on BBC, CNN, NPR, PRI, and Al Jazeera, and she is a regular contributor to SAPIENS, where she writes a monthly column called "Borders." Her recent speaking programs have brought her to stages around the world, including the United Nations General Assembly and the Parliament of the World's Religions, where she has delivered keynote addresses on human rights to audiences of more than 10,000. In 2016, The American Anthropological Association presented her with the "Emerging Leader in Anthropology" award, and her latest projects have been supported by grants from The National Science Foundation. She is proud to serve on the Advisory Board for several non-profit organizations, including The Global Village Project, the first school designed specifically for refugee girls; Stories Found, an organization equipping African youth with filmmaking skills and technology; and SAPIENS, a digital journal focused on connecting social science research to the public.
Originally from the southern United States, Isabella has called New York, Paris, Chicago, Rabat, Atlanta, and Bamako home over the years. She earned her degrees from New York University (BA), the University of Chicago (MA), Emory University (MA, PhD), and the Spéos Institute in France (MFA), and she has held a faculty positions in the Departments of Anthropology and Film Studies at Emory University and the Department of Social Sciences at Université Mohammed V, Morocco's National University. While her work frequently brings her to New York, Geneva, and across North Africa, she now happily calls Santa Barbara, California home, where she lives with her partner, Amit Alexander-Nathani, their son, and their two rescue dogs, Willow and Bear.