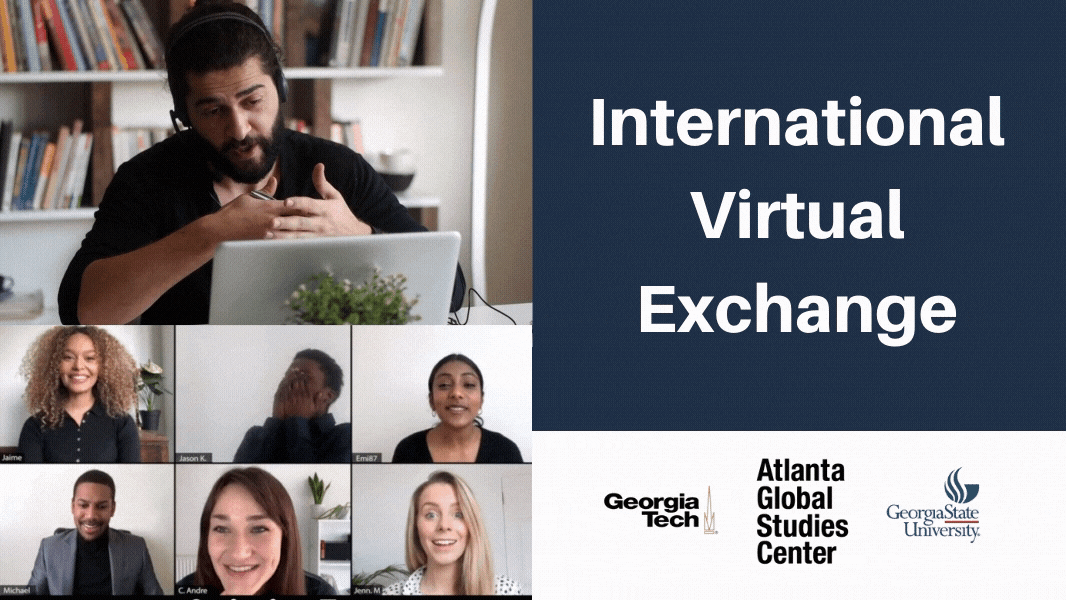 What is Virtual Exchange?
Virtual Exchange (VE) is an educational practice, supported by research, that consists of sustained, technology-enabled interaction between groups who are in different geographic locations and/or from different cultural backgrounds. In a virtual exchange, classrooms in any part of the world connect, communicate, and collaborate through chat, video, file-sharing, or any other form of technology to engage in discussion, complete a project, and/or solve a problem. 
Virtual exchange offers meaningful, accessible, and inclusive international experiences to students. It provides students with opportunities to develop communication skills and prepares them for careers where international collaboration and the ability to work effectively online will be necessary. 
Virtual Exchange projects can be developed for any subject of study, for any grade level, and for students who speak one or more languages. They can be implemented synchronously or asynchronously. The costs associated with developing a virtual exchange are minimal, but the benefits are immeasurable. 
Why is Virtual Exchange more important than ever?
Virtual Exchange provides meaningful global experiences for all students.
There is a fundamental need for students of all backgrounds and abilities to access global experiences at home, whether they can study abroad or not. All students deserve to practice 21st century digital literacy skills, to build career skills like collaboration and teamwork, to communicate with diverse international groups, to be part of this vastly interconnected world, and to be empowered to participate in the evolution of technology and communication that we are experiencing at this very moment.
Virtual Exchange Initiative at Georgia State University
The Atlanta Global Studies Center partners with Georgia State University's Office of International Initiatives to award and support faculty who utilize Virtual Exchange in the classroom. 
2021-22 Awards for Virtual Exchange 
Coming soon!
2020-21 Awards for Virtual Exchange 
Cultural Perspectives on Climate Change
Senior Lecturer of Geosciences, Dr. Ricardo Nogueira, is partnering with Dr. Sam Lau, Principal Lecturer at Hong Kong Baptist University in Hong Kong, and Dr. Min Hu, Professor at Northwest University in Xi'an, China. Students utilize TopHat and TopHat Slate technology to discuss environmental pollution and explore the impact of climate change from their respective cultures. The causes and consequences of climate change along with the effects of climate change on daily living and lifestyles are addressed.
World Foods: Connecting Students in India and in the U.S.
Assistant Professor in the Department of Nutrition, and member of the Global Research on Non-Communicable Disease (GRAND) Initiative, Dr. Nida Shaikh, is partnering on a Virtual Exchange Project with Dr. Jagmeet Madan, Principle and Professor of Sir Vithaldas Thackersey (SVT) College of Home Science, SNDT Women's University in India. The project provides students with a window into the world of food and culture. Students engage in asynchronous group activities in iCollege to compare and reflect on their favorite foods and their origins, the food in their refrigerators, and collaborate on a group presentation about a festive cultural meal of their choice (e.g. a Polish Christmas Eve dinner).
The Global Forum
Senior Lecturer of International Business, Dr. Evaristo Fernando Doria, is partnering on a Virtual Exchange Project with Conestoga College School of Business in Canada and Munich Business School in Germany. Undergraduate students in the field of international business engage in a cross border large scale online discussion forum to address topics that focus on the cultural differences and similarities in a business context. This virtual exchange initiative uses an AI powered online discussion platform to foster cross-border students' engagement.
Real Innovation Challenges
Clinical Professor of International Business, Dr. Mourad Dakhli, is partnering on a Virtual Exchange Project with Dr. Johan Vogel, Senior Lecturer at the University of Pretoria in South Africa. Virtual teams of students from both institutions solve real life problems that require extensive intra-team collaboration, creativity, and innovation. Students collaborate on an international business consulting project for a German industrial firm actively seeking to establish presence in Africa and the Middle East. The digital platform, Telanto, is used to facilitate and assess the university-industry collaboration.
Virtual Exchange Project Templates at Perimeter College
Assistant Professor of English, Jessie Hayden, developed 15 customizable virtual exchange project templates for faculty, available on iCollege, the university's learning management system. These innovative projects can be used by faculty from a variety of disciplines who are ready to give virtual exchange a try. Topics and activities in Communication, English Composition, Humanities, Social Sciences, and STEM can be easily adopted or modified to engage students in cross-cultural dialogue and meaningful discussions about global topics.
Faculty Teaching and Learning Community on Virtual Exchange
Associate Professor of Social Studies and Multicultural Education, Dr. Yali Zhao, was selected to facilitate GSU's Faculty Teaching and Learning Community on Virtual Exchange. Dr. Zhao is a veteran virtual exchange educator and advocate. She has provided individual mentorship to many colleagues in the past, and now leads a community of 10-20 faculty members each semester in discussions, resource-sharing, and problem-solving.  Dr. Zhao also conducts a Virtual Exchange Project with Dr. Xiang Liu, Associate Professor in the College of Education Science at the Sichuan Normal University in China. Students in the course develop cross-cultural understanding of different cultures and education systems. Students have reciprocal learning opportunities to share views pertaining to various educational issues at the time of global Pandemic with international education students. Computer-mediated technology and web-based technologies, including iCollege and Flipgrid are used for sharing video presentations and discussions.
2019-20 Awards for Virtual Exchange
AGSC and OII awarded 12 Virtual Exchange project grants in 2020.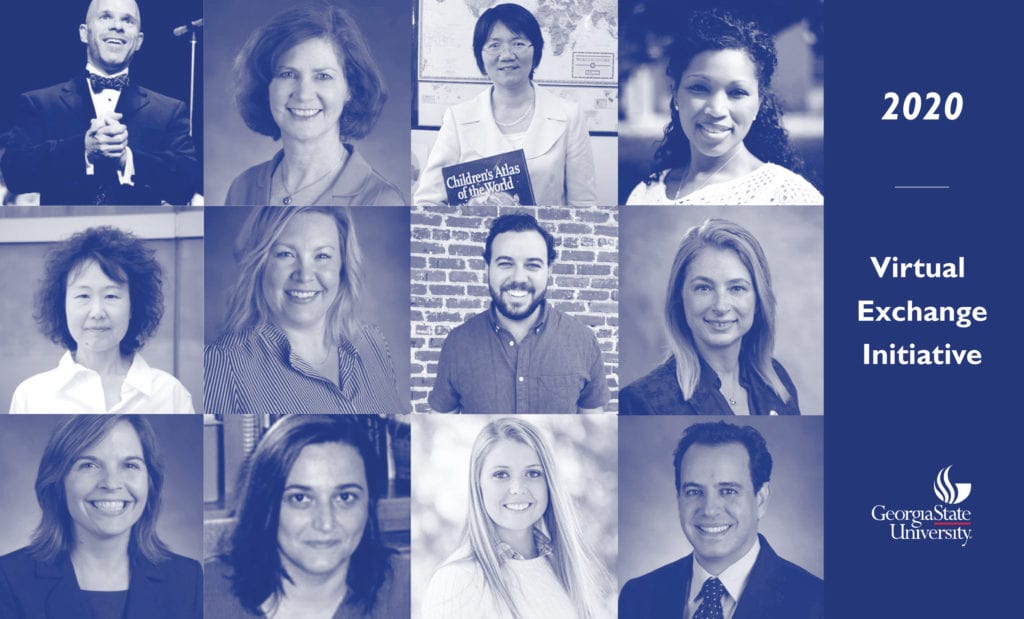 Read more about Virtual Exchange.
Virtual Exchange Toolkit for Teachers
Virtual Exchange Technology Guide
The Stevens Initiative Resource List
Harnessing Technology for Global Education
Global Engagement Teaching and Learning Community
For more information, contact Diana Wrenn Rapp, Assistant Director, Atlanta Global Studies Center at GSU (dwrenn1@gsu.edu).
Past Event: "Growing International Virtual Exchange"  Webinar: October 9, 2020
The University System of Georgia, Atlanta Global Studies Center, and Clemson's Office of Global Engagement invite you to a workshop about Growing International Virtual Exchange. Join us to learn how to sustain global education in an accessible and inclusive way, both now and in the future. Discover how academia can invest in virtual experiences for the 21st century.
10:30-11:30 a.m.
Jon Rubin, an internationally-recognized expert in Collaborative Online International Learning will make "The Case for Virtual Exchange," followed by a panel discussion with Dr. Sharon Nagy (Associate Provost for Global Engagement, Clemson), Dr. Wolfgang Schlör (Associate Provost for International Initiatives, Georgia State University) and Dr. Stephen Harmon (Associate Dean of Research, Georgia Tech Professional Education).
12:00-2:00 p.m.
University delegates, curriculum designers, coordinators of experiential programs, faculty, and instructional technology developers are invited to the afternoon session for "A Comparative Look at IVE Models in the Region" by Dr. Nannette Commander (Virtual Exchange Coordinator, Georgia State University), and Dr. Kyle David Anderson (Senior Director of Global Engagement, Clemson University).