Mark Your Calendars for our upcoming workshop: April 25, 2020
More information coming soon.
Past Workshops
The UN's Sustainability Goals & Teaching World Cultures, Social Studies, and Foreign Languages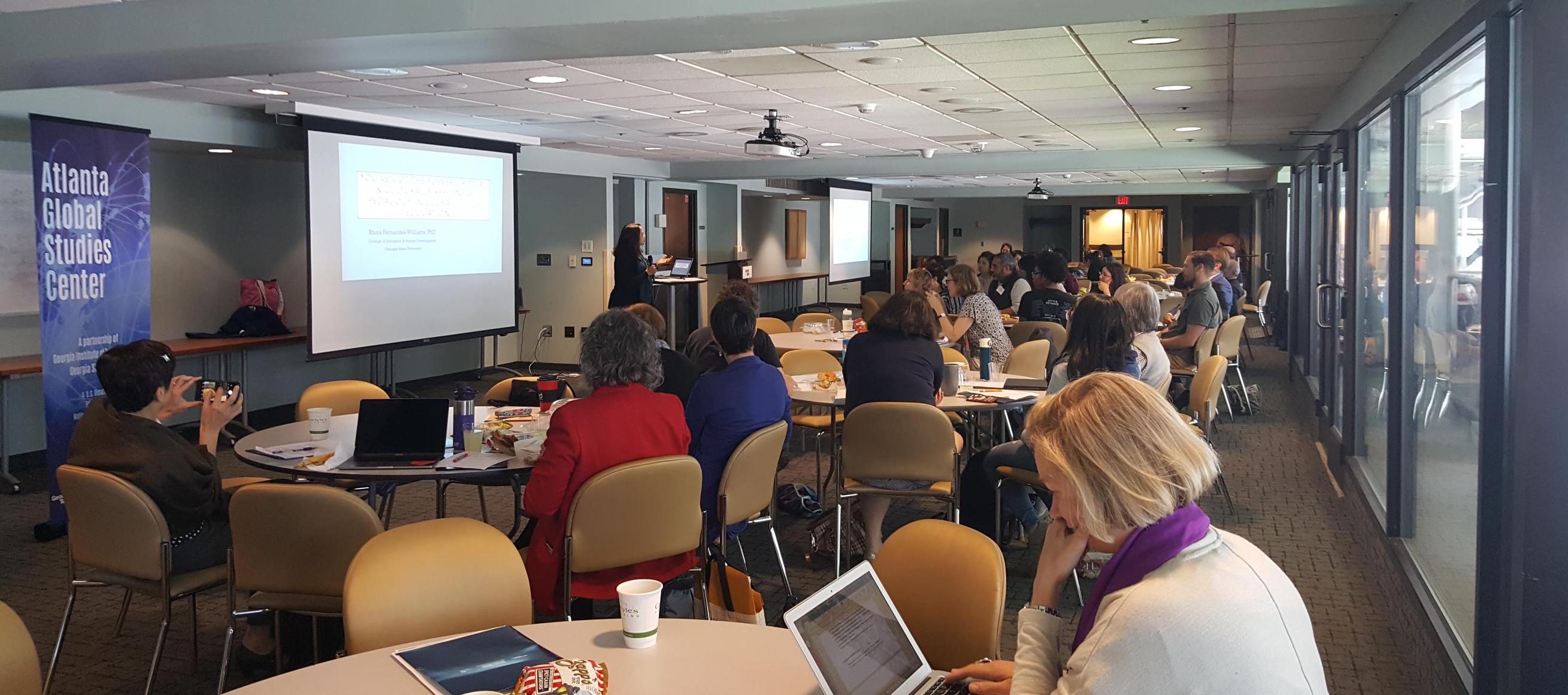 in collaboration with the Georgia Department of Education World Languages and Global Workforce Initiatives and the Georgia Tech Global Media Fest
Saturday, April 27th 9 a.m. - 3 p.m.
Bill Moore Student Success Center, Georgia Tech Campus
9 - 9:05 a.m.    Welcome and introductions
9:05 - 10:15 a.m.    
Sabrina Grossman, Program Director in Science Education, and Diley (Dyla) Hernandez, Senior Research Scientist; Center for Education Integrating Science, Mathematics, and Computing (CEISMC), GA Tech, "Problem Based Learning and Culturally Authentic Education to Promote Equity and Resiliency"
 
10:15 - 11:30 a.m. Global Media Fest Panel: Sustainability Across Languages and Culture
Juan Carlos Rodríguez, Associate Professor of Spanish, GA Tech (moderator)
Amanda Weiss, Visiting Assistant Professor of Japanese, GA Tech, "Discussion of Film: Ashes to Honey – The Search for Energy Independent in Japan and Sweden"
Jin Liu, Associate Professor of Chinese Language and Culture, GA Tech, "China events archive and teaching modules and materials"
Jan Uelzmann, Assistant Professor of German; Britta Kallin, Associate Professor of German; Annika Orich, Assistant Professor of German, GA Tech, "Discussion of Documentary: Neukölln Unlimited – immigration into Germany"
Stephanie Boulard, Associate Professor of French, GA Tech, "Discussion of Film: Swagger on immigration and social issues in France today"
11:45 a.m. - 1:00 p.m. Lunch and Keynote:
Rhina Fernandes Williams, Associate Clinical Professor, Department of Early Childhood Education & Elementary Education, GSU, "You've Got the Power: Critical & Culturally Responsive Pedagogy in Global Justice Education"
1:00 – 2:00 p.m.
Awad Awad, Program Director of Arabic Study Abroad and Coordinator of Arabic Summer Language Institute, UNG, "Landing the Flying Carpet: Teaching Arabic in the American South – a dialogue on linguistic sustainability"
Yunjuan He, Associate Professor of Chinese, UNG, "A content-based language course: Sustainability – examples from China"
2:00 – 2:10 p.m. Break
2:10 – 3:30 p.m. 
Paula Mellon, Associate Director, Center for Latino Achievement and Success in Education, College of Education, UGA, "Collaborative conversation-based instruction to integrate sustainability themes across the curricula"
3:30 p.m. Wrap-up & Distribution of Professional Development Certificates