This project assesses study abroad practices to engage Black students' identities holistically, to remove barriers for Black students, and to enable global education professionals to make study abroad more accessible.
Agnes Scott College, Kennesaw State University, Morehouse College, Atlanta Metropolitan State College, Delta Airline's Global Office of Diversity, Equity, & Inclusion
Advancing Global Inclusive Leadership Education (AGILE)
The AGILE program is a transformative initiative that focuses on providing underrepresented and historically disadvantaged students with the opportunity to engage in global education experiences. Students participate in a leadership and community engagement program, including a short-term study abroad experience. The program actively supports historically Black colleges and universities (HBCUs), aims to remove financial and logistical barriers for students, and cultivates global citizens and change agents.
Phase II: Extending Depth and Breadth
In Phase II, students will have the opportunity to participate in a leadership and community engagement academy sponsored by Delta Air Lines and an AGREC grant. The program emphasizes helping underrepresented and historically disadvantaged students prioritize study abroad experiences, which allows them to become more competitive candidates in the global marketplace. It also highlights the importance of recruiting and engaging students in study abroad opportunities to foster success. By participating in a series of workshops and a short-term study abroad experience, students develop cross-cultural leadership and community engagement skills.
In March 2023, program scholars participated in an eight-day study abroad experience in Paris and Nantes focusing on the Black experience in France. The cohort relived and retraced the footsteps of notable African-descended persons who resided in France. Students participated in workshop sessions at Agnes Scott College, cultural and community engagement projects with students and faculty in Paris, an immersive leadership development day with Delta executives, and will share learning outcomes in a symposium at the Delta Flight Museum.
AGILE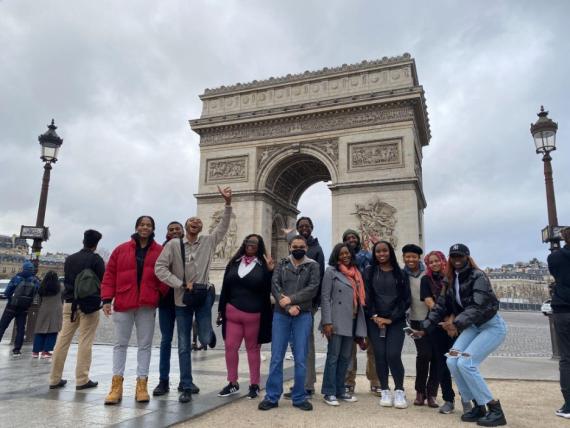 Partnering with Historically Black Colleges and Universities (HCBUs)
In an effort to expand the program's reach, the project team included Morehouse College from the HCBU community and different university types. They also included the University System of Georgia access institution — Atlanta Metropolitan State College. A member from this institution was added to the project team to assist with pilot programming there. The co-PI from Phase 1 assisted with program development, outreach, and engagement with students at Morehouse College. Student and faculty from Morehouse College also participated in a book discussion program, and panelists from Morehouse College will be featured in the annual AGILE Symposium.
AGILE
Impact on Campus Practices
One unique aspect of the program is that the travel component is multi-institutional. While each participating institution maintains its pre-departure, in-country, and re-entry practices, the program team have implemented additional practices that complement existing protocols. This includes a tailored risk mitigation programming for risk mitigation considerations unique to travelers from historically underrepresented groups.
Removing Barriers for Black Students
In the continuation phase, the project team focuses their efforts on building momentum and applying data-based interventions to address concerns raised by students that prevented them from participating in education abroad programs. Some students did not participate because they did not to see how it aligned with their career goals. Through the proposed project, students learn about how study abroad programs address high-demand skills as articulated by prospective employers, and how to describe them in cover letters and applications. Students also learn to develop these skills through scheduled workshops and an embedded study abroad experience.
Another concern is that education abroad programs require long-term commitments that disrupt family responsibilities and work arrangements. To address this concern, the proposed program will include a short-term study abroad experience that may be sponsored by Delta Air Lines.
However, the primary obstacle to studying abroad continues to be finances. This project incorporates a strategy to reduce the cost of study abroad experiences for Black and other historically underrepresented students by generous support from Delta Air Lines. In the pilot year, Delta Air Lines provided support for airfare for 8 students who will serve as ambassadors for the program.
AGILE
Making Study Abroad More Accessible to All Students
The goal of the AGILE program is to use culturally-relevant mentoring and community-engaged methods to help students develop a diverse skill set to thrive in a competitive global economy as change agents and global citizens. It emphasizes the importance of curiosity about the world and a commitment to community engagement and servant leadership.
This program teaches interdisciplinary approaches to train globally-engaged community leaders through hands-on learning opportunities, workshops and experiential learning strategically aligned with community and industry needs. The rationale for this program is for students from communities who traditionally do not participate in education abroad programs to benefit from these transformational experiences and augment any program of study through a series of relevance-focused workshops and problem-based study abroad experiences.
By coupling a leadership development program with a short-term global education immersion experience, study abroad becomes more accessible for students who otherwise would not pursue study abroad.
Impact on Global Education
The proposed project provides an opportunity to consider areas that could be elevated as global education programs are developed. The program seeks to work alongside industry partners as a thought partner and as a partner in developing a carefully curated leadership development experience. Students can also explore how a global education experience impacts one's post-graduate and professional success. They are exposed to career and leadership pathways in a global context with an industry leader that connects the world.
The short-term global immersion experience is bolstered by ongoing mentorship, programs, and workshops that support the program's target audience and their families navigating the global education experience space. The program does this through the lens of leadership and provides students with the opportunity to engage with program leaders who share similar identities, backgrounds, and experiences.
Creating a More Equitable & Inclusive Higher Education Landscape
The project calls attention to the systemic inequalities that have plagued higher education and actively seeks to eradicate those inequalities. This is done through intentional programming that advances and advocates for the purposeful support of historically underrepresented students in the global education space by:
providing a holistic approach of peer professional development support for professionals in the field
education and exposure for students and families
continuing leadership development that complements a student's global education immersion experience
AGILE Symposium
The AGILE (Advancing Global Inclusive Leadership Education) Program includes a symposium for faculty and staff who work with students who have been historically underrepresented within global education spaces. The symposium aims to equip faculty and staff with the necessary tools to engage in fruitful study-abroad discussions with Black students enrolled across the six-member AGREC institutions.
The symposium was an AGREC Collaborative with ASC & KSU. It included several panel discussions:
Global Careers Panel
Supporting Students of Color Aboard Panel
What We Wish You Knew Student Panel
Keynote Speaker: Devin Walker, Ph.D. Director, Heman Sweatt Center for Black Males Director, Global Leadership and Social Impact Division of Diversity and Community Engagement Editor- Historically Underrepresented Faculty and Staff in Education Abroad: Wandering Where We Belong
Table Talks
Student Awards
AGILE Symposium