Lead Faculty: Brigitte Stepanov, Chris Ippolito
An annual speaker series has been established which centers on the African Studies Minor and focuses on inclusive pedagogy while elaborating on global issues pertaining to a diversity of peoples, languages, and cultures. The series fosters partnerships with the diverse community surrounding Georgia Tech and examines a broad set of questions concerning identity, gender, human rights, literary and cultural production through various media, health, social justice, immigration, and sustainability. Additional resources help to build a library collection of more diverse and inclusive materials.
"What (is) Universalism? Planetary Poetics and an Ecology of the Cosmos"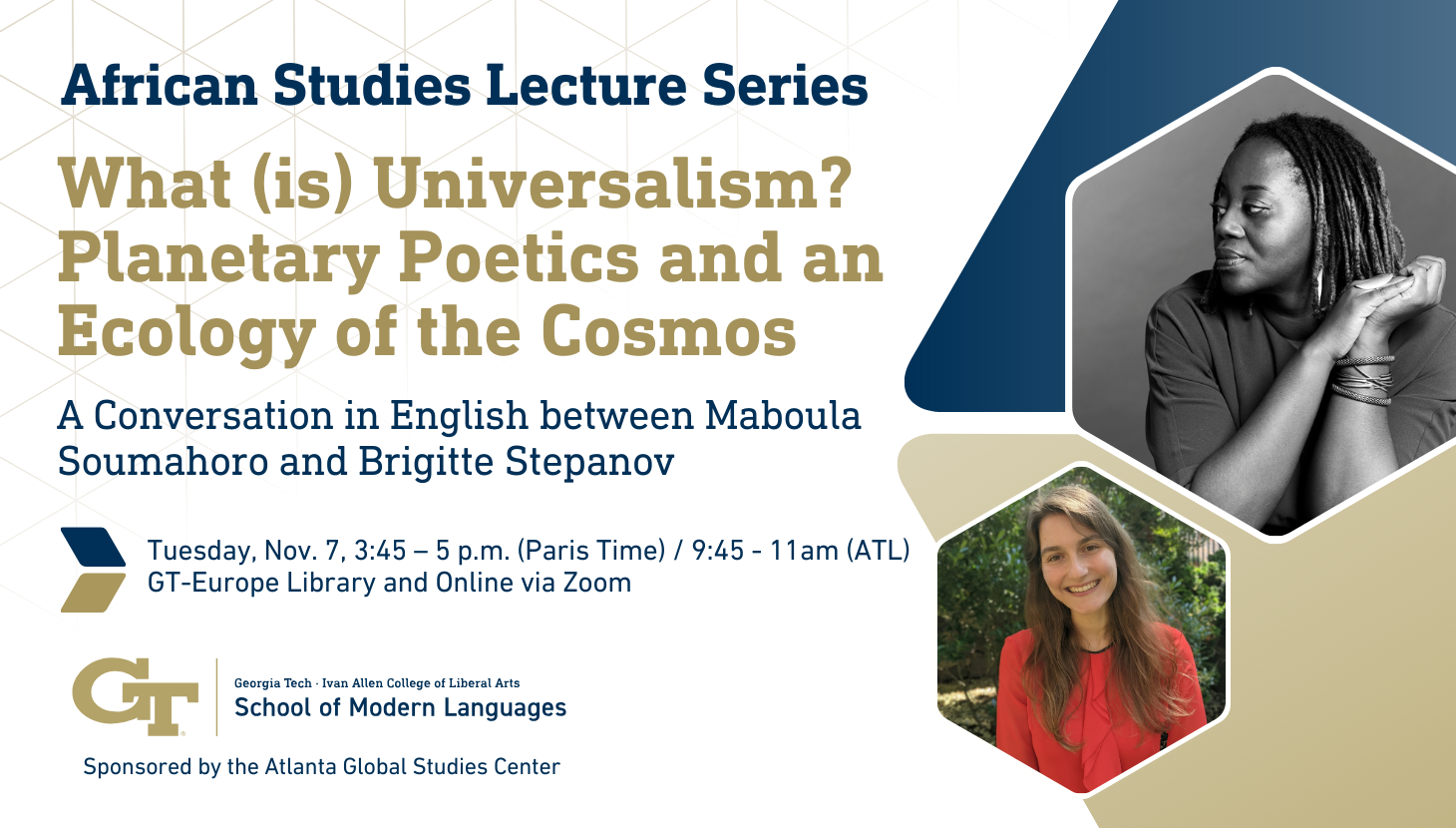 A Conversation between Maboula Soumahoro and Brigitte Stepanov
The discussion will consider universalism, ecology, and what concepts of "nature" or the "natural world" Maboula Soumahoro has encountered in her work.
November 7, 2023
3:45pm-5pm CET | 9:45am-11am EST
GT-Europe Campus, Metz, France, and online via Zoom
Register here for the Zoom link
Filming Africa: From Ethnography to Essay - A lecture by Rachel Gabara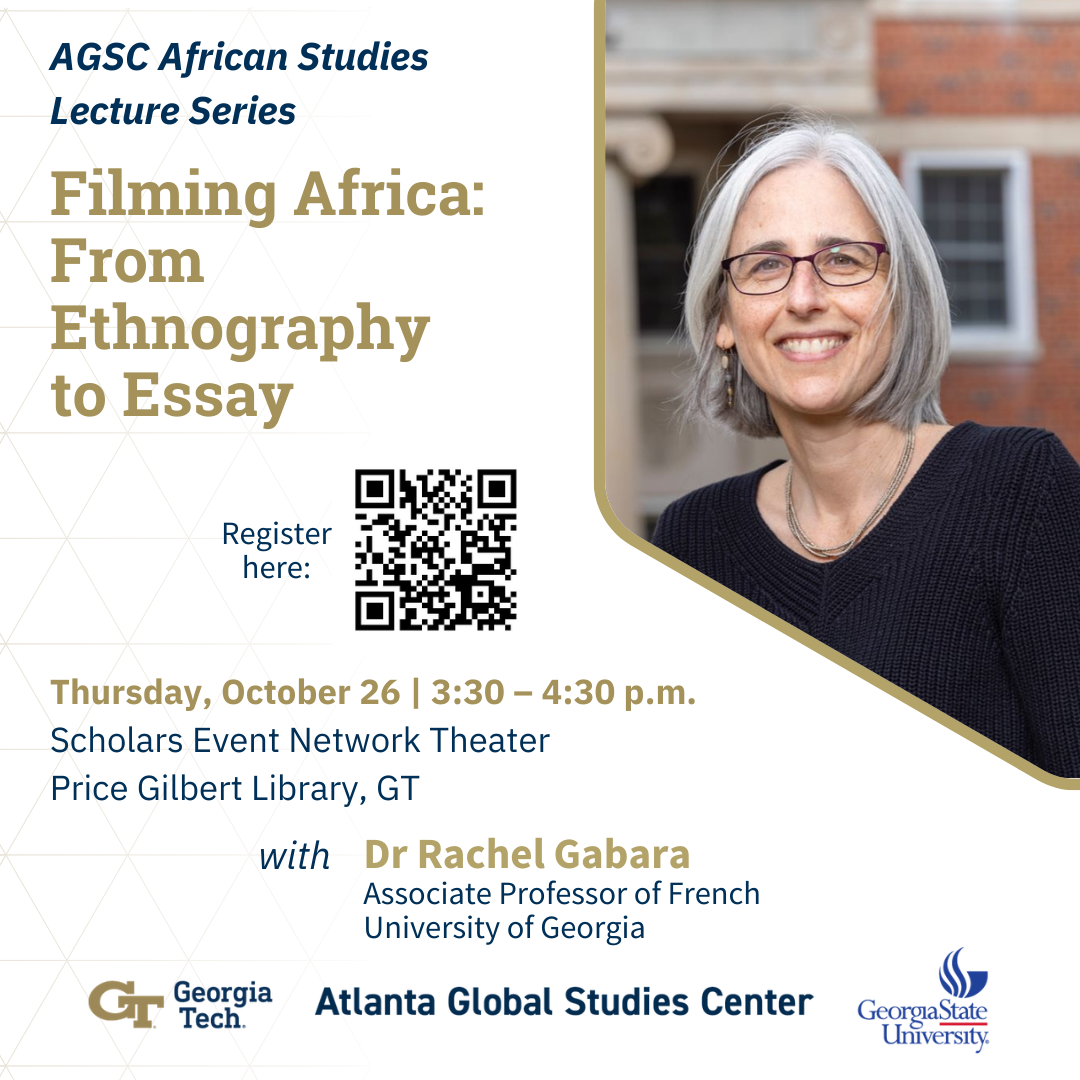 Dr. Gabara will discuss the development of independent sub-Saharan African cinema in the context of her forthcoming monograph, Reclaiming Realism: From Documentary Film in Africa to African Documentary Film. Gabara's book and essays on the topic are based on research supported by the Fulbright Scholar Program, the National Endowment for the Humanities, and the American Philosophical Society.
Rachel Gabara teaches Francophone African and European literature and film at the University of Georgia. Senior film review editor for African Studies Review, she has published widely on African film in its global contexts as well as first-person narration in multiple media. Her recent essays address the intertwined histories of colonial French and independent West and Central African cinemas, and her new monograph, Reclaiming Realism: From Documentary Film in Africa to African Documentary Film, is forthcoming from Indiana University Press.
3:30-4:30pm, Thursday, October 26th, 2023 - SEN Theater, Price Gilbert Library, Georgia Tech
Register here to attend.
China in Africa: A Conversation with D'wayne Copper
5:30-6:30pm, Tuesday, April 11, 2023 - Swann 106 and via Zoom
D'wayne Copper discusses aspects of the special relationship between China and Africa. Moderated by Chris Ippolito (Professor of French, African Studies Minor Advisor, School of Modern Languages).
D'wayne Copper is a Project Associate at Connexus Corporation. He graduated from Georgia Tech with a BS in Economics and International Affairs and an MS in Applied Language and Intercultural Studies with a concentration in French. He was also a Democracy Program Intern at the Carter Center (Atlanta).
Translating Space and Time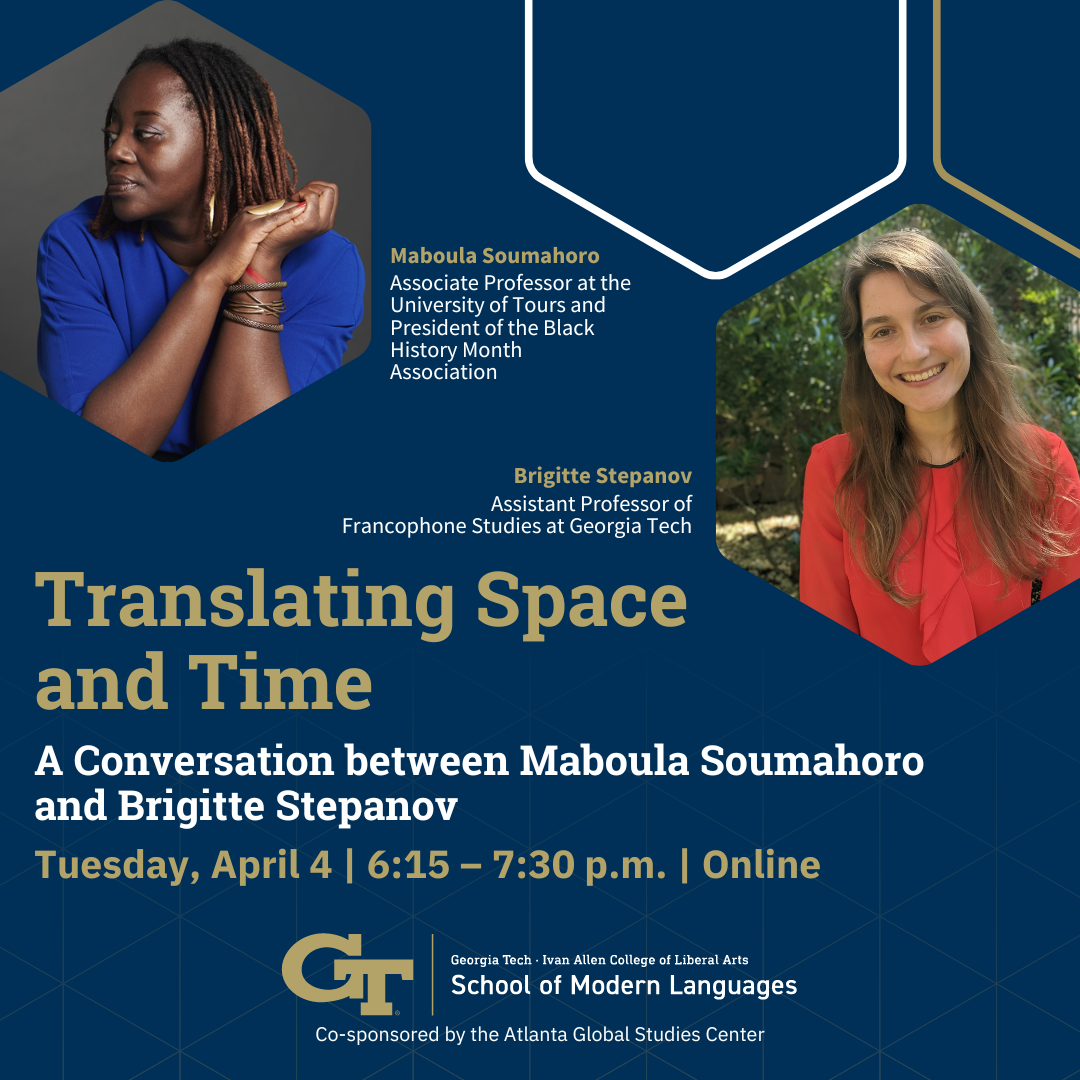 6:15-7:30pm, Tuesday, April 4, online
A Conversation between Maboula Soumahoro and Brigitte Stepanov
Maboula Soumahoro is an associate professor at the University of Tours and president of the Black History Month Association, dedicated to celebrating Black history and cultures. A specialist in the field of Africana Studies, she has conducted research and taught in several universities and prisons in the United States and France and was most recently the inaugural Villa Albertine Resident in Atlanta. She is the author of Le Triangle et l'Hexagone, réflexions sur une identité noire (La Découverte, 2021), translated in English by Kaiama L. Glover as Black Is the Journey, Africana the Name (Polity, 2021). This book received a special distinction from the FetKann! Maryse Condé literary prize in 2020. This academic year, Maboula Soumahoro is the Mellon International Visiting Professor at the African-American and Africana Studies Department of Columbia University as well as Visiting Faculty at Bennington College. She will be a fellow at the Institute for Ideas and Imagination (Columbia University Global Centers, Paris) in 2023-24.
Brigitte Stepanov is an assistant professor at Georgia Tech. She writes and teaches about how categories of being, knowledge, and aesthetic forms are stretched and blurred by violence. In her current book project, Cruelty, War, Fiction: Redefining the In-Human, she dissects the very category of violence in Algeria, Rwanda, and France as defined by legal and literary frames. Trained as a mathematician, a photographer, and a scholar of French and Francophone Studies, she finds herself at the intersection of several disciplines, each lending a lens through which to view our present and its shifting paradigms.