Lead Faculty: Brigitte Stepanov
An annual speaker series has been established which centers on the African Studies Minor and focuses on inclusive pedagogy while elaborating on global issues pertaining to a diversity of peoples, languages, and cultures. The series fosters partnerships with the diverse community surrounding Georgia Tech and examines a broad set of questions concerning identity, gender, human rights, literary and cultural production through various media, health, social justice, immigration, and sustainability. Additional resources help to build a library collection of more diverse and inclusive materials.
Translating Space and Time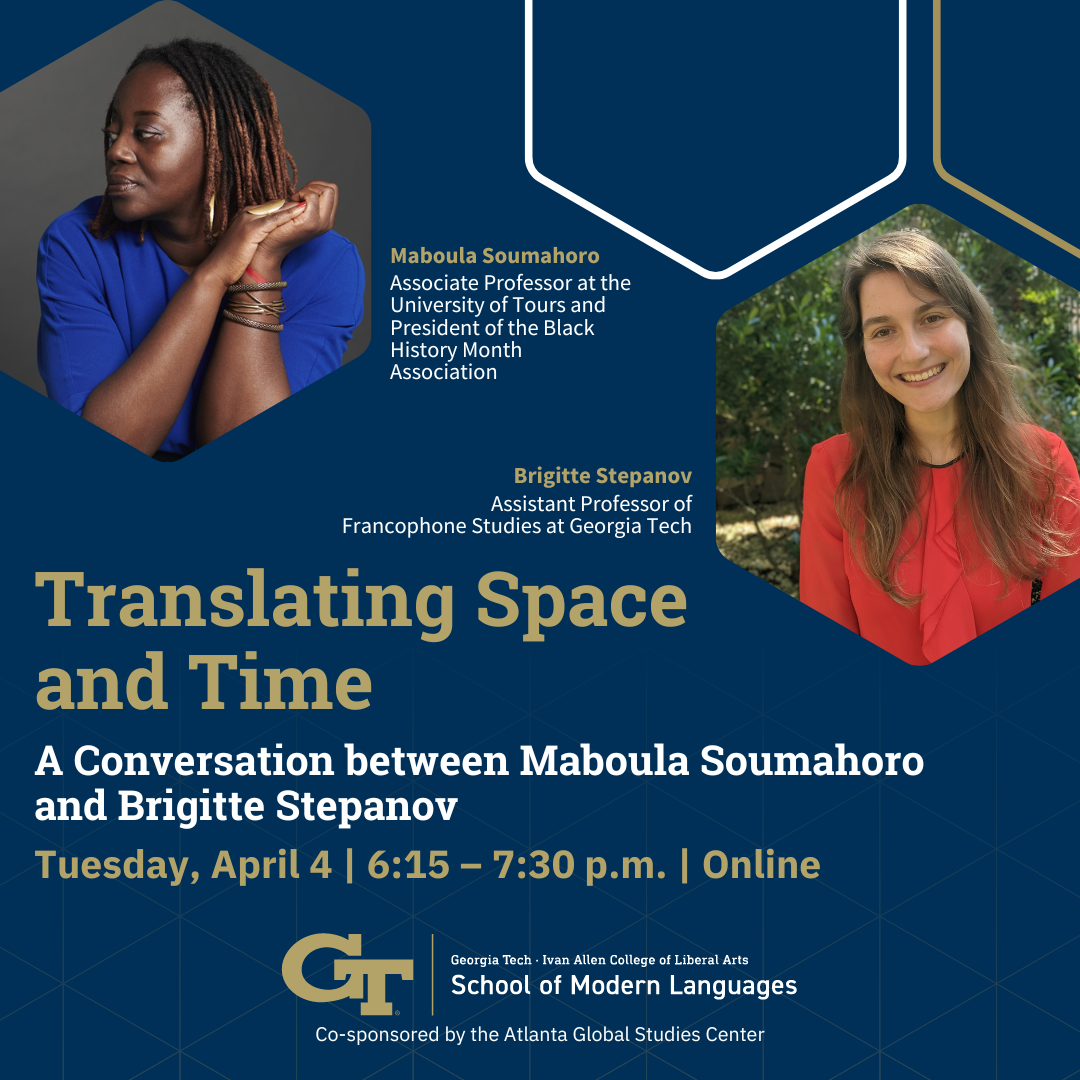 A Conversation between Maboula Soumahoro and Brigitte Stepanov
Maboula Soumahoro is an associate professor at the University of Tours and president of the Black History Month Association, dedicated to celebrating Black history and cultures. A specialist in the field of Africana Studies, she has conducted research and taught in several universities and prisons in the United States and France and was most recently the inaugural Villa Albertine Resident in Atlanta. She is the author of Le Triangle et l'Hexagone, réflexions sur une identité noire (La Découverte, 2021), translated in English by Kaiama L. Glover as Black Is the Journey, Africana the Name (Polity, 2021). This book received a special distinction from the FetKann! Maryse Condé literary prize in 2020. This academic year, Maboula Soumahoro is the Mellon International Visiting Professor at the African-American and Africana Studies Department of Columbia University as well as Visiting Faculty at Bennington College. She will be a fellow at the Institute for Ideas and Imagination (Columbia University Global Centers, Paris) in 2023-24.
Brigitte Stepanov is an assistant professor at Georgia Tech. She writes and teaches about how categories of being, knowledge, and aesthetic forms are stretched and blurred by violence. In her current book project, Cruelty, War, Fiction: Redefining the In-Human, she dissects the very category of violence in Algeria, Rwanda, and France as defined by legal and literary frames. Trained as a mathematician, a photographer, and a scholar of French and Francophone Studies, she finds herself at the intersection of several disciplines, each lending a lens through which to view our present and its shifting paradigms.